Yes, our Web Pharmacy lets you manage prescriptions for your family and loved ones.
To add a family member, simply sign in and select the "Family care" option from the main menu.
While nearly all prescriptions can be filled through the Web Pharmacy, there are a few that cannot due to various state regulations. If you try to refill one of these prescriptions, the Web Pharmacy will inform you that it cannot be refilled. If you have any questions about these prescriptions, please contact the pharmacy.
Yes, you can. You can sign in to the Web Pharmacy and go to the "Reminders" option on the menu to set up reminders to take medications.
Alternatively, you can also set up reminders to take medications on time from the prescription details screen.
Yes, you can choose to have prescription names shown in your reminders instead of prescription numbers. TO do so:
Please sign in to the mobile app or the Web Pharmacy and go to 'Reminders'.
Go to the 'Settings' section.
Turn on the 'Show full prescription names in notifications' setting.
You can simply reply with 'P' to any of our text messages from your registered mobile number to receive a link to manage your preferences.
You can easily manage a number of preferences in the Account Page of your Web Pharmacy. These include:
Time zone
Phone number

Email address

Hiding and showing prescriptions in your prescription list
Language (if available)
To manage the timing and frequency of your notifications, go to the Reminders option on web page.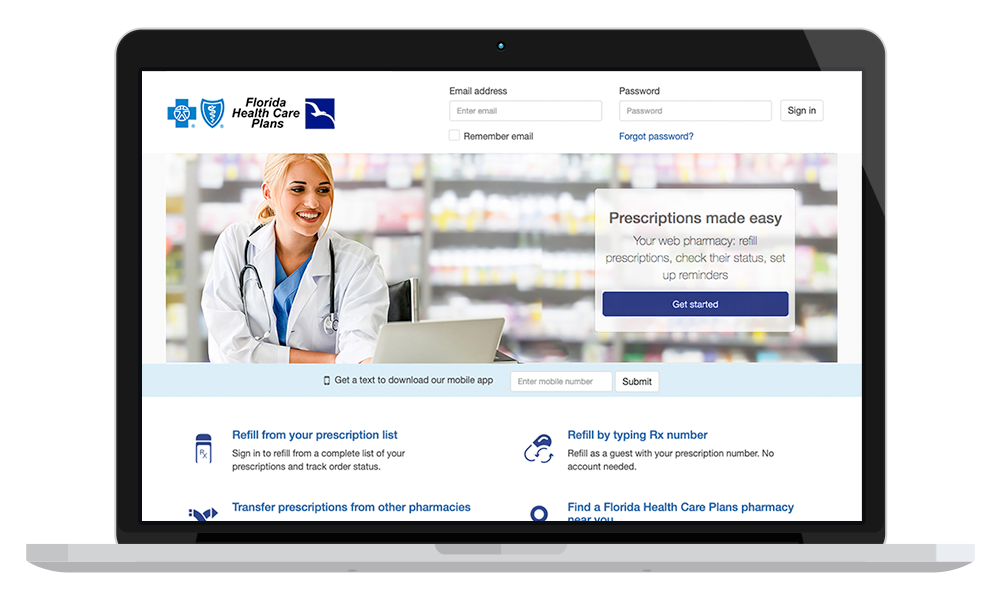 Refill from Prescription List
My Prescriptions displays the list of all your medications along with prescription number, dosage, quantity, fills left and expiration. You can refill directly from your prescription list.
Refill by Typing Prescription Number
You can refill your prescriptions without logging into the app by typing in your prescription information.
Transfer Prescriptions from other Pharmacies
You can easily transfer prescriptions from other pharmacies outside Florida Health Care Plans to a Florida Health Care Plans pharmacy.
Find a Pharmacy
Pharmacy Locator allows you to easily find a pharmacy. The feature includes: get directions, pharmacy hours, contact information (with click-to-call functionality), and service offerings (clinics, flu shot, and more).
Manage Doctor Information
My Doctors allows you to organize your doctor/patient relationship. You can see your Healthcare provider's contact information and call or fax the doctor directly.
Manage Account Information
Within My Account, you can easily set up reminders manage your notification preferences, and more.